Jan 30, 2019 01:24 PM Central
Jacqueline McLaughlin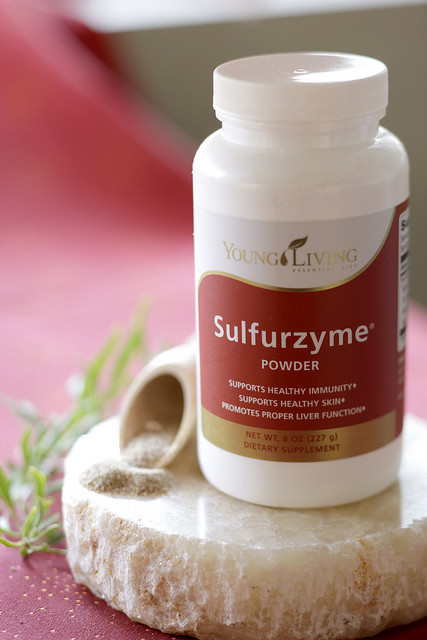 Anyone that knows me in my teaching role with Young Living knows that I always recommend Young Living's Sulfurzyme for literally everyone! Why?
Sulfur is the third most abundant mineral in your body. While close to half of it can be found in your muscles, skin and bones, sulfur plays important roles in hundreds of physiological processes
Excellent sources of sulfur include homemade bone broth, organic pastured eggs, grass-fed meats, nuts, wild-caught Alaskan salmon, cruciferous vegetables such as broccoli and alliums like onions and garlic
Sulfur can also be obtained through supplementation with methylsulfonylmethane (MSM)
Dr. Mercola has a great article on the benefits of dietary sulfur
here.
It's difficult to get enough sulfur in this modern world without making it a full-time job of eating lots of the above listed sources of sulfur (and of course it must be good quality). That's why I always recommend taking Young Living's
Sulfurzyme
, which comes in two forms - capsules and powder. I like the powder better because it has prebiotic qualities in it, too. Whichever one you choose, be sure to add
Sulfurzyme®
to your supplements and notice the difference after a couple of months - you can thank me later :-)
Sulfurzyme®
combines wolfberry with MSM, a naturally occurring organic form of dietary sulfur needed by our bodies every day to maintain the structure of proteins, protect cells and cell membranes, replenish the connections between cells, and preserve the molecular framework of connective tissue.* MSM also supports the immune system, the liver, circulation, and proper intestinal function and works to scavenge free radicals.* Wolfberries contain minerals and coenzymes that support the assimilation and metabolism of sulfur.* FOS is added to this formula to support normal digestive system health.*
* These statements have not been evaluated by the Food and Drug Administration. Young Living products are not intended to diagnose, treat, cure, or prevent any disease.
Jan 28, 2019 12:20 PM Central
Jacqueline McLaughlin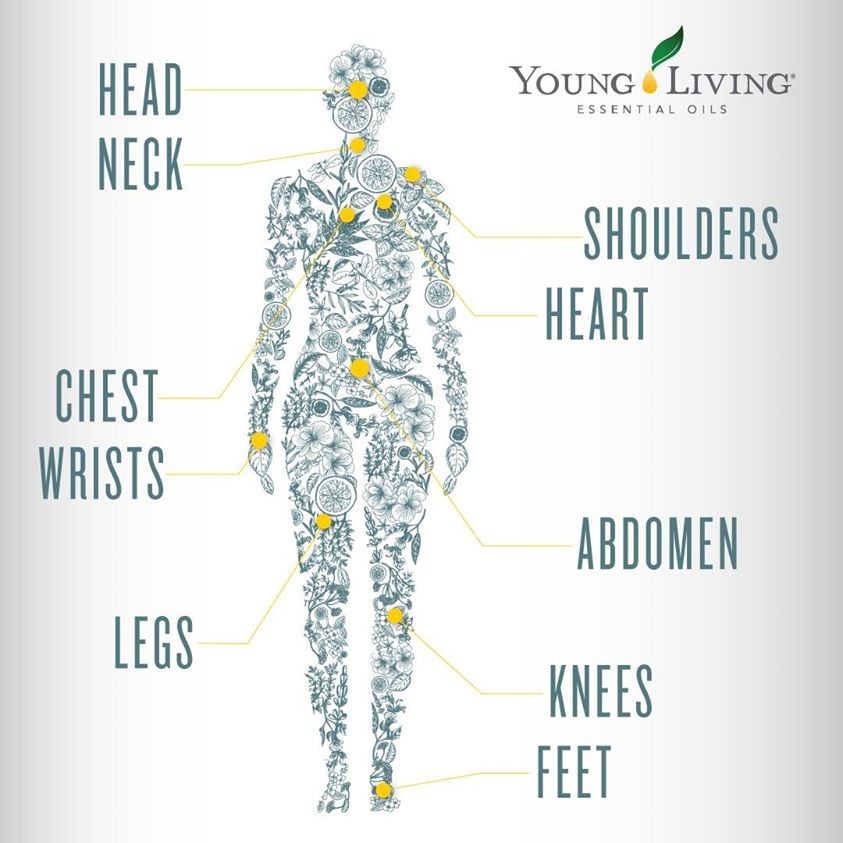 I love using Young Living oils topically to get their benefits in everyday life. Have you ever wondered, "Where should I apply this essential oil?" The answer is different for everyone, as we each have different physical and emotional needs, and all of our bodies are genetically and chemically different.
Having said that, here are some simple application points for essential oils. We recommend diluting your essential oil with V-6 Vegetable Oil Complex or a carrier oil before topical application if you are new to essential oils, have sensitive skin, or are applying on children.
Here are some of my favorites for the head area applications:
Crown of head: Apply oils here for an aroma that can help transform your mood and create a balanced environment. Sacred Frankincense, Abundance, Clarity, Release, Highest Potential.
Scalp: Apply as part of your beauty and hair care routine. A scalp massage is a great way to invigorate the senses. Rosemary, Cedarwood, Lavender.
Temples and forehead: Apply for an aroma to help you feel at peace and relaxed. Deep Relief, Stress Away, AromaEase, Brain Power, M-Grain.
Base of neck: Apply after a long day for a sense of relaxation. PanAway, Deep Relief, Peppermint, Wintergreen, AromaSiez.
Face: Apply as a part of your beauty and skin care routine. Lavender, Frankincense, Myrrh, Royal Hawaiian Sandalwood, Tea Tree, Lemon, Geranium.
Undereyes: Apply as a part of your beauty and skin care routine. Use caution to avoid getting oil in your eye! Copaiba, Lavender, Frankincense, Palmarosa.
Behind ears: Apply for an aroma that can quickly affect your environment and mood. Stress Away, Peppermint, Valor, Grounding.
Around ears: Apply after swimming. Tea Tree, Lavender, Helichrysum, Purification.
* SAFETY: Never drop essential oils in your ear canal.
Thanks to Young Living Product Education for these great suggestions!
Stay tuned for Part 2......